In this course you learn to paint with gouache and see how opaque you can use it.
See how a composition of onions, grapes and a sketch can be arranged and changed during the painting process.
Look at the way the material is used in the video. Then you try it yourself.
Level: Starter and Advanced
You can work as long as you like on the theme at home and send me the result by email if you would like. You will get feedback as soon as possible.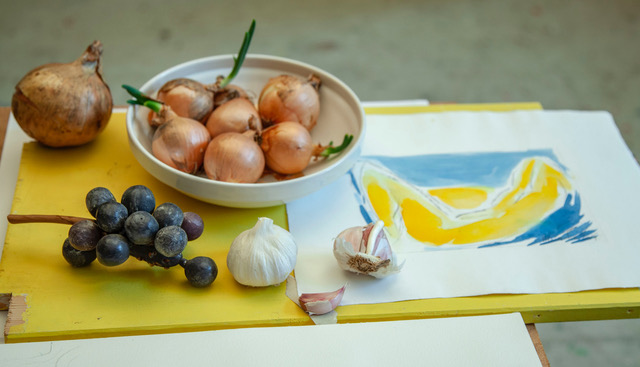 In deze cursus leert u te schilderen met gouache en u ziet hoe dekkend u het kan gebruiken. U ziet een compositie van uien, druiven en een schets opnieuw gearrangeerd en veranderd wordt tijdens het schilderproces.
Je kijkt naar de manier waarop het materiaal in de video wordt gebruikt. Dan probeer je het zelf.
Niveau: Starter en Gevorderd
Je kunt thuis zo lang aan het thema werken als je wilt en me het resultaat per e-mail sturen. Je krijgt zo snel mogelijk feedback.